OK class - pop quiz today: Write [or more likely just think], how many continental divides are there in the Lower 48 and describe.
This is what usually what comes to mind, especially to Coloradans, and is an example of ONE of the divides!
And the picture above is typical of the North-South Continental Divide from the Canadian border with Montana to the Mexican border with New Mexico as shown below: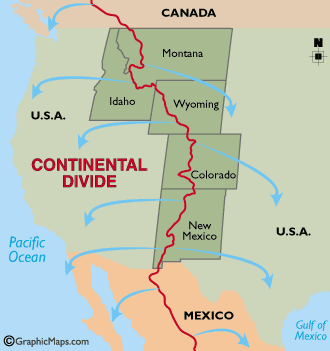 However, what is shown is the Great North-South Continental Divide, if you have ever driven from Goshen to the South Bend Airport, along the US 20/31 Bypass you should have noted this sign: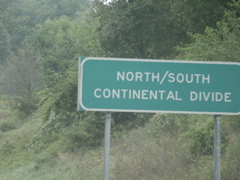 It's on a very small ridge as shown here:
However, all of the Divides in the US are shown below:
So, you will have to give yourself your own grade as to how well you answered the question :-) There are a couple of interesting things to note about the US Great Continental Divide. Look closely at Wyoming and the very southern portion in New Mexico and Mexico - The Great Divide divides! This creates a basin that does not drain east or west, much like the Great Basin shown in Nevada and some adjacent areas - think Death Valley. I think that I have traversed all of the US Divides.