As a biologist, I will affirm the message of the first graphic - that the variations we see among human populations are variations in the expression of the genes that we all share. For example, we all have the same number of melanocytes, the pigment producing cells, and the variation we see in skin pigmentation is due to which type of melanin is being produced, how fast it is being produced and how quickly it is being broken down. Many folks have direct experience with changes in melanin production - for example the induction of more melanin production by exposure to sunlight [
tanning
]; or
skin darkening during pregnancy
; or
age spots
:-) Also, this post is not at all intended to be a detailed discussion of the topic - you can find many, many books on the origin of race - but rather this is intended as a simplified introduction to the topic [in response to a classroom discussion!!]

However, a natural question is how did humans get from this

to this?
One thing to consider is the map below, from Jared Diamond. It shows human origins in Africa, and then the migration of humans throughout the world. An important concept here is to think of these populations as simply divergent groups, isolated from one another, and therefore any genetic changes related to appearance could become distinctive for that group.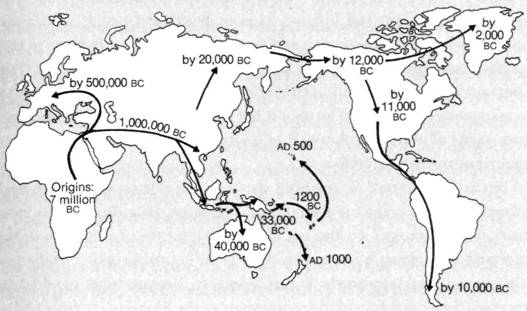 The following graph of genetic analysis of different groups demonstrates both the divergence of different groups as well as the nearness of relationships [genetic distance] within groups. Notice the concordance of the genetic data and the migration graph [the migration graph is based partially on genetic data as well as on archaeological and anthropological data]. Sorry - you will have to turn your head sideways to read the names of the different human populations.
Perhaps a helpful analogy would be the derivation of different breeds of dogs - a common ancestor that through selective breeding [genetics] has given rise to dozens of different 'races' of dogs. The are all the same species, with variations on a theme, and the variation can be due to the differential expression of a single gene as has been shown for the differences in dog sizes. The take-home message for humans is that a complex of genes control the size and shape of facial features and other morphological [body] characteristics, and that heterogeneity among those genes give rise to folks who look different, and likewise homogeneity would produce similar traits.
When one considers how much variation can be generated in the dog species over a relatively short period of time, it is rather amazing that there has not been greater diversity among human populations given the long periods of time. Given the 'shrinking' globe, it is not hard to conceive that the future will see a diminution of human variability, with physical differences becoming less and less prominent.