Well, this has been a long time coming.....
Here is the promo blurb for the 2015 Men's Retreat
MEN'S RETREAT 2015 Coming up February 27 to March 1, 2015, Mountain States Mennonite Conference's annual Men's Retreat will be held at RMMC with John Paul Lederach speaking on "Cultivating Courage." Through stories, songs, and sharing, the retreat will take a look at practical ways to transform conflict with family, church, community, and business colleagues and will also explore the biblical basis of transforming conflict. In addition to the worship times there will be plenty of time to play (especially for human curling) and enjoy time outdoors.
Human Curling Crew - Yours Truly, Right Back, In Red EDDS Supplies Jacket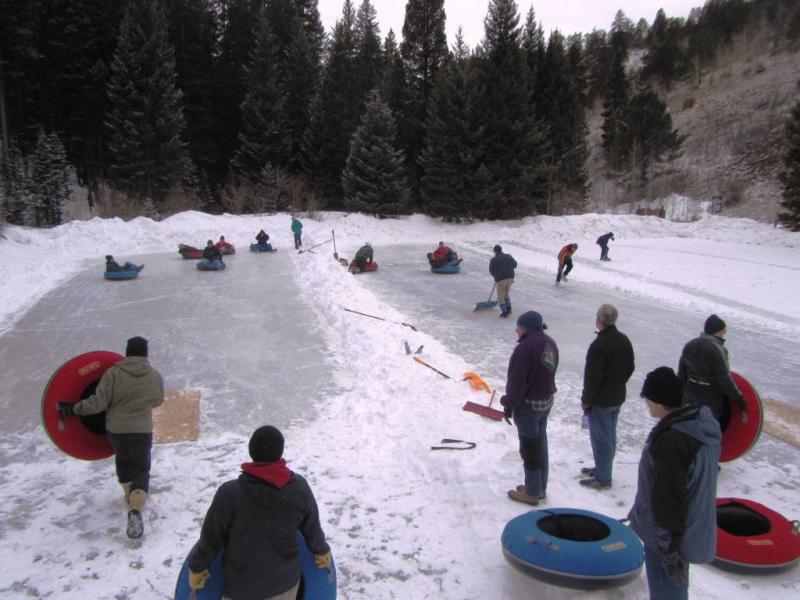 The Curl
I was going through old papers looking to get rid of "stuff" and I came across my notes from the 2015 Retreat. I had saved them because at some point in time I wanted to put them on this blog as a way to archive one of the self-reflective activities that John Paul outlined for us. During each of the four sessions, he gave us a sheet of paper with a quote at the top. We were supposed to think about the quote, and then write a personal response that could then either be shared with the group or remain personal. Some shared very powerful stories, some were folksy, and some more mundane like mine. Up until this post, my responses have remained personal but not for any reason other than not getting around to typing them out verbatim - it's only taken about four years!! As per usual, comments welcomed.
1. Music is the space that happens between the notes.
Claude Debussy
Sing the Journey. Life is a journey. A singular note is only a very small part of a song, and by itself is quite irrelevant, but placed among dozens or hundreds or thousands of other notes, it becomes an integral and often irreplaceable part of the whole. In many ways, each passing hour, day, month,year, decade is a singular moment, and it may seem irrelevant, but the whole taken together make a symphony. Life is a sojourn - progressing, staying a while, and moving on.
2. In this there is no measuring of time,
a year doesn't matter, and ten years are nothing.
Being an artist means: not numbering and counting,
but ripening like a tree,
which doesn't force its sap,
and stands confidently in the storms of spring,
not afraid that afterward summer may not come.
It does come.
But it comes only to those who are patient,
who are there as if eternity lay before them,
so unconcernedly silent and vast.
I learn it every day of my life,
learn it with pain I am grateful for:
patience is everything.
From: Letters To A Young Poet
Rainer Maria Rilke
Life has seasons, and to progress from spring to summer to fall and to winter requires patience. It is truly a privilege to have the opportunity to experience each season, for indeed many will never see all of the changes, and hopefully the growth that comes with the years and decades of life experiences, truly "ripening like a tree" - growing, expanding, passing through seasons of growth and fullness, loss and emptiness, and yet being renewed with each and every new day, month, year, ...
3. Love your God with all your
Heart, soul and mind, and love your
Neighbor as yourself
Be compassionate
As your God the Creator
is compassionate
Y'shua talked a lot about many things, but interestingly never wrote anything down, composed an article, published a book, etc. Thus we are left to ponder his words as recorded by others. Some of the teachings of the rabbi seem to turn logic on its head, and give a vision of an upside down kingdom. Some of the teachings seem to have been considered among the most important, and referred to as the greatest - the command at the top of this page being preeminent. There is only one recorded place where Y'shua told a story about how we will be judged, and it is directly related to this command - we will not be judged by dogma or orthodoxy and how well we followed all of the machinations of the church, but simply by how we treat others, for it is in how we do this that is the true evidence of loving God.
4. It take courage to grow up and become who you really are.
e.e. cummings
Only one person knows who I really am, and that is me. Everyone who "knows" me really sees less than the 100% of who I really am. Some people know me only superficially and thus really don't know much about me. Others have known me for decades, and may know me in a way that is both deep and wide, but even family and best of friends do not know the totality of who I am. Some know me for what I do, for example professor, basketball player, runner, musician, and so on. Others know me as son, brother, husband [just one!], father, cousin, grandparent, or other familial relationships. Still others know me as friend, colleague, mentor, neighbor, etc. But even my longest and most intimate friend, my spouse, does not know 100% "who I really am." Others will only know who I am from seeing and hearing how I live. The only way that others will know who you are is by how you live: your actions, your words, your deeds, how you speak, how you listen, how you lead, how you follow, how you dress, what you do for your work, your play, your "free" time, how you spend your money, and how you care for yourself, for others and for the earth. All of these things change over time, and hopefully one becomes more self-aware of each of these things, and moves toward compassion and caring for others as well as self, and not toward hardening of heart, detachment, and self-centeredness.