Early on the morning of Tuesday October 9, the 46 students, Herr Daugherty, Herr Lerner and I boarded the bus and headed to the
Frankfurt Airport
. Our flight arrived in
Vienna
,
Austria
shortly after noon, on time.

We then wended our way the the
Hotel Mercure
, our home for the following four nights. The Mercure was quite nice, fairly quiet, close to the
Westbahnhof
, and had a breakfast buffet that got the day started on the right foot! Eggs, bacon, sausages, fruits, juices, breads, meats, cheeses, cereals, yogurt, and a couple of things that I could not identify. 
The Westbanhof is just around the corner from the Mercure, so all of our city explorations started here. The bahnhof also has numerous shops and eating places including a McDonald's. Each of us had a
Wochenkarte
- weekly pass - which made riding the public transportation very easy. After getting settled in at the hotel, we headed to the
Mozarthaus
for a tour and then on to the
Augustinerkelle
r for a nice
schnitzel
dinner. Be sure to click on the Augustinerkeller link to view some great pictures of the restaurant, food, and hands of an incredible accordion player.
On Wednesday, after a hearty breakfast and lots of Viennese coffee, we headed to visit the
Kunsthistorisches Museum
and the
Leopold Museum
. We split into two groups, and divided the morning and afternoon between the two museums. There is abundant information about each museum at the links provided, and below are among my favorite pieces - a
Bruegel (there are many)
at the KHM and a
Hokusai
from the LM: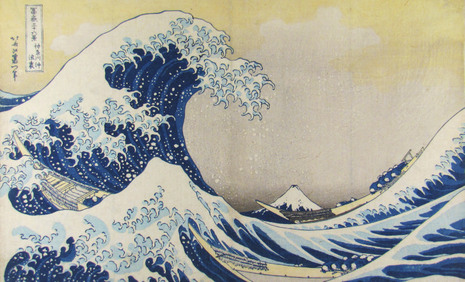 Everyone was on their own for dinner, and in the evening we gathered at the
Hofburg
for a Strauß and Mozart Concert. Herr Daugherty has the Program Notes with information about the six guest vocalists, and I will add that information asap.
The Program
Johann Strauss "Rosen aus dem Süden" (Roses from the South)

Wolfgang Amadeus Mozart "Nun vergiß' leises Flehen" / "The Marriage of Figaro"
Solist: Oskar Hillebrandt

Wolfgang A. Mozart "Sagt holde Frauen" / " The Marriage of Figaro"
Solistin: Elena Suvorova

G. Puccini "O mio babbino caro" "Gianni Schicci"
Solist: Kayo Hashimoto

Giuseppe Verdi "E stravo"/La Traviata"
Solostin: Ella Tyran

Gaetano Donizetti "Der Liebestrank" (Elixir of Love) " Nemorino's arie"
Solist: Bohan Choe

Johann Strauss"Frühlingsstimmen Walzer" (Voices of Spring)
Solistin: Andrea Olah

Johann Strauss "Vergnügungszug" (Pleasure Train) (Polka Schnell)

Johann Strauss"Ich lade gern mir Gäste ein" (I Always Feel Beholden) / "Die Fledermaus"
Solistin: Elena Suvorova

Johann Strauss "Im Krapfenwaldl" – Polka

Johann Strauss Duet from "Wiener Blut"
Duett: Andrea Olah, Oskar Hillebrandt

Johann Strauss "Tritsch-Tratsch" – Polka

Josef Strauss "Feuerfest" - Polka française

W.A. Mozart "Ein Mädchen oder Weibchen" ( A girl or a woman) / "The Magic Flute"

W.A. Mozart "Papageno – Papagena"

Johann Strauss "Brüderlein-Schwesterlein"/"Die Fledermaus"
Solisten: Alles

Johann Strauss "An der schönen blauen Donau" (Blue Danube)

SOLISTEN:
Andrea Olah - Sopran
Ella Tyran - Sopran
Kayo Hashimoto - Sopran
Elena Suvorova - Mezzo-Supran
Bohan Choe - Tenor
Oskar Hillebrandt - Bariton