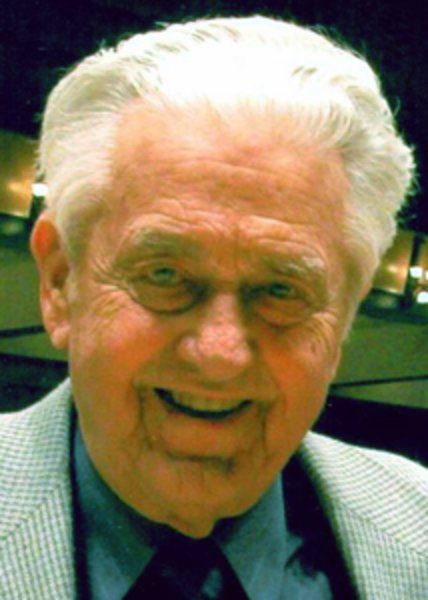 On July 26, 1916, in Bay Port Michigan, Ed became the third child of Joseph and Emma Swartzendruber.

Ed had older brothers Walter and Omar, and would later have younger siblings Bill, Alma, Paul, Bess and Claude.

Ed loved school, especially mathematics, and was a top student at Kilmanagh School.

He also attended Bible School in Kitchner, Ontario.

Like many young folks at that time, Ed had to quit school after the 10th grade to help work on the farm.
On April 2, 1939 in Pigeon, Michigan, Ed married Mary Aschliman.

One of Ed's early jobs 'off of the farm' was as a butcher at Maust's Butcher Shop.

Ed liked to say that since he was such a good butcher, he would probably be a good surgeon.

In 1944, Ed, Mary and Kay moved to Goshen, IN, where Joe had moved in 1941.

The family bought the farm on Smoker's Corner on US 33 East.

Doug was born there, and in 1952, they sold the farm and bought a new farm on County Roads 40 and 27.

Since there was no house there, they bought Sam and Anna Aschliman's house in New Paris.

In 1959, they bought the Eldridge House on County Road 142.

Ed and Mary moved to College Green in 1988, and in 2012 they moved to Evergreen.
Ed was a visionary regarding farming and business.

He was among the first in the region to install an irrigation system for his corn.

Most were doubters, but when Ed had great crops while the others suffered drought, the doubters became believers – today nearly all corn crops in the area are irrigated.

In addition to corn, Ed raised chickens and wheat, with one short-lived venture in growing tomatoes.

As a chicken farmer, Ed became associated with Wana Feeds in Shipshewana.

It was there that Ed met Ellsworth Fanning who became Ed's long-time business partner and friend.

Ed and Ellsworth built EDD's Supplies from a shoestring operation into one of the largest distributors of liquid fertilizer and related products.
Ed loved family, friends, colleagues, church, education and music.

He and Mary were long time supporters of College Mennonite Church and Goshen College, particularly the music program.

Together, they greatly enjoyed all of the musical events at the College, and always anticipated the next musical program regardless of the performers or content.

For many years, Ed sang with the Menno Singers while Mary was a member of the Middesingers, the Lyric Choir and the Saint John's Singers.
One of the distinguishing features of Ed's prosperity was that he shared so much of it with others.

In the spirit of Matthew 25, Ed often said that "The only thing that you can take with you is what you give away."

All we can say is Amen Ed, and Godspeed.