Today's blog is by
Ken Willems
, and is the first of what I hope will be a regular occurrence, namely guest contributions. Ken has been a long time fan of Bob Dylan, and I asked him if he would be willing to document his admiration for a legend that keeps growing. Thanks Ken for sharing this story.
Some time in 1962, during study hall, my attention was seized by an article in the music section of Newsweek magazine. I was probably 16 years old at the time and a sophomore in high school. The article was about a young folksinger named Bob Dylan. It described his early life in Hibbing, Minnesota, his migration to New York City, his adoration for Woody Guthrie, the release of his first album, and of course, his music. All of that was very interesting to me since I had been interested in folk, early country, and old gospel music for some time. But what really got my attention was the closing paragraph. The writer observed that Dylan and his music caused middle class kids to want to leave home and take to the open road.
Several months later I bought my first guitar, my dad showed me three chords (that was all he knew) and I began playing. Not long after, I acquired a harmonica and a rack. I didn't really know how to play, but I knew I wanted to. I also bought Dylan's first album,
BOB DYLAN
. I listened to the old gospel songs such as "Gospel Plow" and "Fixin' To Die", and an old Jimmy Rogers song called "Freight Train Blues." Dylan's voice and the way he sang really resonated with me. But the song that got to me most was "Song To Woody." Dylan had written it himself. That was a new idea for me at the time. I guess I had never thought much about where songs came from.
One day soon after I bought the record, a music teacher friend of my parents visited our house. Dad had me play some Dylan music for him. He listened, then said, "His guitar is out of tune, his harmonica is not even in key, and he can't sing. He'll never make another record." I remember my Dad smiling at that!
Less that a year later Dylan released his second album called
THE FREEWHEELIN' BOB DYLAN.
I bought this record too. He also began a nationwide concert tour. The songs on this record had almost all been written by Dylan. And they weren't just songs. They had a point to them, a message. The words were very important in these songs which was very different than the popular music of the day.

I can't recall where I heard it, but one day during my junior year of high school I learned that Bob Dylan was going to perform at Orchestra Hall in Chicago. A friend and I decided that we were going. He had his driver's license and, more importantly, a car. After considerable pleading (and probably other strategies too) we got permission to go to the concert.
It was December 27, 1963, and it was cold, but the weather and roads must have been good. We arrived at Orchestra Hall quite early and sat in our seats waiting for over an hour. The stage was set for the concert. On the stage there were two bar stools and one microphone stand with two microphones, one for the vocals and one at guitar level. On one of the bar stools there was a collection of harmonicas, probably five or six. The audience arrived, mostly after us, took their seats. I remember the hall being very quiet, as if a dignitary was going to deliver a very important speech.
Dylan was introduced with exactly the same words as he has been each of the other times I've seen him in concert. Simply, "Ladies and gentlemen, Columbia recording artist Bob Dylan." He walked on stage carrying his guitar. Without a word, he launched into the first song of the evening. He sang them all, "Blowin' In the Wind," "Hard Rain," "Masters of War," "Girl From the North Country," and all the others on the
FREEWHEELIN'
album plus some others I had never heard. The applause for each song was powerful and deep. The audience's appreciation for the music was expressed in a manner that bordered on reverence. After about two hours of non-stop playing, Dylan said "Thank you," and left the stage. He played an encore or two, said "Thank you," again, then left. The lights came up and the concert was over.
I was on the way to play pick-up basketball at an outdoor park sometime in 1965 when I first heard "Like a Rolling Stone." I felt betrayed. I couldn't understand why Dylan would want to play an electric guitar and make popular music. He was far more than that! I liked the song but I simply could not come to grips with why this was happening. Some years later I was given an album of a live performance by Dylan. Every song he played was vastly different than the way it "should have been." His greatest and most meaningful songs had new chords and different rhythms. I kind of liked it, but it just was not right!
It took me a few years, but over time I began to understand. "Rolling Stone" was equal in depth to anything else Dylan had done. The songs on subsequent albums and the new arrangements of old songs were also extraordinary. Dylan was staying ahead of himself. He was continually moving on to something new. Exploration seemed to be far more important than anything else. Throughout Dylan's different "reinventions of himself" he has constantly been moving forward, never stagnating with a successful formula as many musicians seem to do.
In the early '80's, following the break-up of his marriage, Dylan wrote and recorded what I consider to be his finest music with the exception of
THE FREEWHEELIN' BOB DYLAN. BLOOD ON THE TRACKS
is filled with emotional and interesting songs. "Tangled up In Blue," "Simple Twist of Fate," "Idiot Wind," "Shelter From the Storm," and others capture your attention and hold it. These songs do not seem to age.

I had only gone to a handful of Dylan concerts before getting married and starting a family. For quite a period of time, I had no money for concerts and I was still unsure of Dylan's inclination to change before I caught up. In the late '80's, however, I began to buy Dylan music again and went to a few concerts. In the '90's there were more concerts. At this writing I've probably seen Dylan in concert around 25 times and own much of his music. I've seen him all acoustic, half acoustic and half electric, and all electric. It's all great, but if I could talk to him, I'd still tell him to play acoustic.
On October 10, 2010, I saw Dylan in concert again. The introduction was the same as always. "Ladies and Gentlemen, Columbia recording artist Bob Dylan." The audience was split between college kids and old fogies. The college kids whooped and hollered and the old fogies just sat there smiling. He walked on to the stage with his band and began playing. The songs were all different than I had ever heard them before. But they were all great. He played the entire concert, just about two hours, without speaking. He did two encore songs. Between them he introduced his band. After the second encore, even though the audience remained standing and cheering, he left. Moments later the lights came up and it was over. At age 67 he still plays great music!
Personally Dylan remains one of the final links to my youth. That alone makes him important. The interest in his music that he generated within me gave me a lifetime hobby; making my own music. That also makes him important. But, as I look back over the many years I have been a Dylan fan, perhaps the most important result of this long and non-personal relationship is that I learned from his example to do things my own way and never base my decisions on what others might expect. That philosophy has served me well in many different situations over the years.
I recall telling someone once that I thought Dylan was going to be remembered as one of the most influential people of the 20th century. I still think that is the case. When this mystical man finally leaves the stage, he will have left a huge footprint on not only the musical, but also the political and social landscapes of our world. Many, like myself, have also had their own personal lives influenced by Dylan's work, attitudes, and examples. Not bad for a guy who can't sing, and plays an off-key harmonica and an out-of-tune guitar.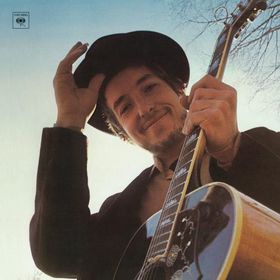 And here is a great music video that shows Dylan through the years.
http://www.youtube.com/watch?v=0RPkJeziNyI&ob=av2e