Nampeyo
- "the snake that does not bite"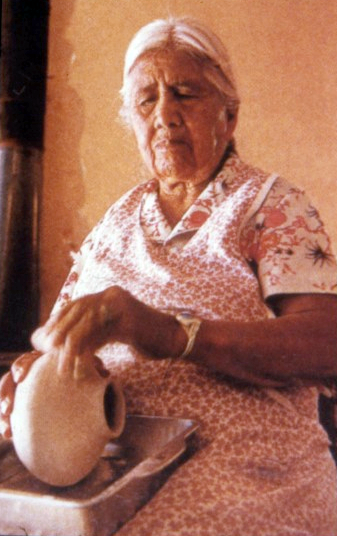 When we lived in Los Alamos, NM, we became quite familiar with the pueblo potters of Northern New Mexico, the most famous being
Maria
from the close-by San Ildefonso Pueblo. Maria's pottery was in such high demand we were never able to afford any of her creations - we did get to see a lot of pieces in galleries! One of our friends was able to purchase a Maria while prices were merely high rather than exorbitant. We settled for purchasing a few pots made by lesser known potters from the Santa Clara, Zia and Acoma pueblos.
So what about Nampeyo and why write here? She and her daughters were Hopi-Tewa from Arizona, and we were not aware of them when we lived in New Mexico. However, when we lived in New Mexico, Rhonda's parents, Abe and Ruth, visited us many times and we enjoyed introducing them to the
Land of Three Cultures.
Having learned a bit about the New Mexico potters, Ruth had the presence of mind to reclaim a pot that had been used by another teacher to hold pens, pencils and assorted classroom necessities. It was a bit beat up, but Ruth carefully cleaned off some of the pencil, crayon and ink marks. She thought we would be interested to see it, and we were. It was obviously an older Native American pot, and we were surprised that it still had a legible signature on the bottom -
Fannie Nampeyo.
Most graciously, Ruth and Abe gave us the pot to add to our small collection.
This is not a photo of the actual pot, but it is
almost identical.
Because of its use in the classroom, ours shows more wear than this one, but the shape and design is nearly a match. The pot was likely purchased in Arizona by an Indiana tourist and made it back to Goshen. It would have been pitched into the trash if Ruth had not come to the rescue. The owner obviously did not know the significant history of Nampeyo and her daughters and their role in resurrecting ancient pottery techniques and using designs from "Old Hopi" pottery dated to the 15th century.