June 1965
Many, if not most, younger folks have never had the experience of traveling cross-country by thumbing. For that matter, most have probably never thumbed a ride anywhere. But "back in the day" when hitchhiking was common, more accepted and definitely safer than today, my good friend [and unbeknownst future brother-in-law] Ken Willems and I decided to hitch west, with Aspen, Colorado as the target. I had spent the previous summer in Aspen as a tag-along with my sister Kay who attended the
Aspen Music Festival and School.
Another Goshen fellow, Dan Lind, had also been accepted to the music camp, and I was able to live in the Lamplighter motel along with Dan. I got a job working in the kitchen of the Skillet at the Glory Hole Lodge. The Skillet was known for its steak – you could walk up to the raw side of beef and gesture with your fingers as to how thick you wanted your steak, and then it would be grilled over an open flame. The good news for me is that many fine steaks were not consumed and sent to the kitchen to be scavenged. Since I had become acquainted with the Alderfer family, a Mennonite connection, Ken and I decided that we could probably stay with them if we actually made it to Aspen. Ken had some relatives along the way, and we figured they would be good for some meals and a place to sleep.
Ken was a founding member of the original Backdoormen, [not
these folks
or
these guys
or
these guys
but documented
here
], a Chicago Blues band made up of Steve Kreider, lead singer and harmonica; Fred Hostetler, lead guitar; Geoff Hartzler, bass; Dean Taggert, drums; and Ken, rhythm guitar. Ken played a Backdoormen session at the United Methodist Church in Goshen where Dean's dad was the pastor. Ken's portion of the evening's proceeds was 17 dollars. I had saved up about 22 dollars for the trip, and we felt that we could go quite far on such a large stash of cash. The trip almost did not happen - after the Backdoormen gig and the divvying up of the proceeds [which induced Taggert to grumble that he thought Steve and Fred pocketed more than $17], Ken was sitting on the hood of my car. Someone suggested a drive around the block with Ken as the hood ornament, so we headed out. Immediately Ken started to slip off of the hood, and I sped up a bit to try to slide him back on. But he kept on slipping. So, I decided the only way that I would not run over him was to slam on the brakes really hard, which I did - Ken flew, unhurt, but also not squished.
So the day after the gig, we hit the road. We packed a small hard-cover tan suitcase with clothes, toiletries and a hatchet for "protection." We also took Ken's acoustic guitar, two sleeping bags, and a bag of sandwiches and food for our initial days on the road.
Memorable Rides and Visits
Since it is 45 years after our travels, we cannot reconstruct all of the details of our trip, but we certainly have some vivid memories of portions of the journey. So here we recount some of the memorable rides, interesting characters and odd happenings on our way to Aspen and back.
Ken's dad Abe took us to US 6 south of
New Paris, Indiana
and our first ride took us only to Nappanee where the fellow was going to work. The rest of the day, the rides were fairly short and not memorable. Our first night was at Joliet, IL, near the junction of US 30 and I 80, and in the dark, we walked off the road a bit, rolled out the bags and hit the hay. In the morning we found that we were in a ditch, there was some water at our feet and we were near a big excavation, probably for a shopping center. We then realized that we should have packed a flashlight for our trip. Also, after one day we knew that we had to work on our hitchhiking "style" with variations on the thumb theme – synchronous moves, over under, swings, smiles vs. scowls, standing backwards – so that if we didn't get a ride, we at least would get a laugh.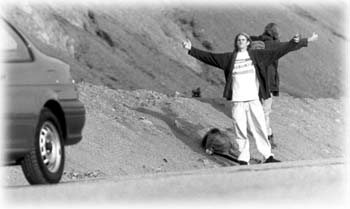 In Iowa, a middle aged man picked us up. He was driving a typical businessman's car, and insisted that we both ride in the front seat with him so that he could "keep an eye" on us –did not want a deranged college student in the back seat behind him we guessed. We don't recollect his business, but at one time, he was a basketball coach, and knew a lot about Indiana high school basketball including the details of the
North Side gym
at Elkhart high school. At the time, North Side was the largest high school gym in the country, seating 8200, and it was the home court of the Elkhart Blue Blazers, a perennial powerhouse because the school had over 3000 students in three grades. New Paris high school had less than 200 in four grades.
Our first overnight that wasn't along the road in a cornfield was in
Milford, Nebraska
with Johnny and Dora Willems, Ken's uncle and aunt. We had not contacted anyone beforehand to say that we were on our way, and not remembering exactly where they lived, we walked into town, asked around a bit, found their house and knocked on their door. They were a bit shocked, but welcomed us in to their home for the night, and for some good home-cooked meals.
Somewhere west of Milford, we got picked up by three twenty-something guys. They were a jovial crew, and were headed "west." They all sat in the front seat, and we squeezed into the back seat that contained a lot of boxes. In western Iowa and Nebraska, the interstate was complete between all of the towns along the way, but the interchanges were not finished. So, at each place an interchange was being built, traffic had to exit the interstate, pass through the town, and then return to the interstate. Pretty soon, we began to figure out that our ride was not simply with three dudes heading west. As we approached each town, one of the fellows would get on their CB radio and call to see if there were any pawn shops in town. We also noted that the trunk was loaded with boxes that looked to be electronics and other miscellaneous stuff. We surmised that they were thieves and were financing their trip with stolen goods. At a gas stop, one fellow filled up, another distracted the attendant, and the third stole a bunch of tools. They laughed as they roared west, and we decided that we had some friends that we needed to stop and see in the next town.
It turned out that we did have a friend in a nearby town – Steve Oswald in
Chappell, Nebraska
. Not having a clue where Steve lived, we stuck out our thumbs to see if we could get some local information. We got picked up by two girls who knew Steve and where he lived. We went to his house, and no one was home. We cruised around town for a while and went back to Oswald's place. He still was not home, but we noted that their garage was not locked, so we stayed there overnight.
If you head south out of Chappell, you are soon in Colorado. We got a ride to the interstate that heads southwest into Denver – it is now I-76 but then it was I-80 South. It was there that a Colorado State Patrol officer said we couldn't hitchhike in CO, and directed us to walk back to Nebraska. As we stood by the road, contemplating our next move, two college-age boys stopped to see if we wanted a ride. It quickly became apparent that these were two wild-and-crazy frat boys heading to California. They drove their Corvair about as fast and furious as it could possibly go. Since Colorado was a 3.2 beer state, they boys were also loaded up with Coors. As we headed into the mountains west of Denver, the hairpin turns became a challenge to see how fast the boys could make the turns by sliding and drifting – fortunately Corvairs have a very low center of gravity. The fellows also thought it was great sport to chuck their empty beer bottles at road signs and at any fisherman that they could spot – again fortunately, they had poor aim. At one of their numerous potty stops, they noted a stack of telephone poles along the edge of the road, close to the steep bank of the river. Well, that called for rolling the poles down the bank. We survived the ride to Glenwood Springs where they headed on west and we headed to Aspen. We thought we should get cleaned up a bit, so as we often did, we used a gas station restroom as our personal space for shaving and cleaning up. About half way through our routine, the station attendant kicked us out. Doug was done shaving and Ken was about half way through – not sure how he finished up.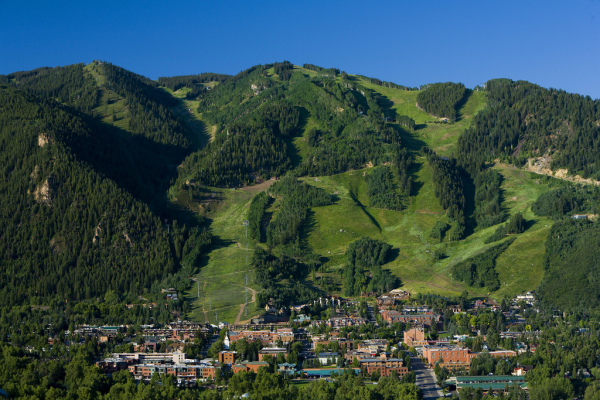 When we arrived in Aspen, Doug had a vague recollection of where the Alderfers lived –mobile home park, across the Roaring Fork, and not much else. So again, we asked around and located their place. Like several other hospitals in Colorado, the Aspen hospital was staffed by administrators from the Mennonite Church, and
David Alderfer
, a Souderton, Pennsylvania Menno, was the chaplain and manager of the Hospitality Center. We spent most of our days in Aspen wandering around the places that Doug knew about from the previous summer. Our favorite was
Pinocchio's,
a pizza joint that was a favorite of college-age kids; pizza and 3.2 Coors – what more could one want?? One evening, as we prepared to head out from the Alderfers, their high school age son [Dan we think, presumably the youngest and only one living at home], quickly moved through the living room, asked if we wanted to hang out with him and his friends, opened up his jacket to reveal to us a bottle of wine, and headed out the door to his awaiting scooter. We declined.
After we left Aspen, we spent one night in the high country. It was quite cold, and Doug was certain that there were timber rattlers in the area and that we would find them in our sleeping bags. After a restless night, we awoke to find no rattlesnakes. As we headed back toward Denver, one of our rides was in a pickup with a cowboy of few words. He did not say anything for miles, but as we passed
Gypsum, Colorado,
he simply stated "Gypsum - Center of the goddamned universe." We didn't press for an explanation.
When we got to Denver, our plan was to look up Bob Roth, a good friend that we knew from our high school days in Indiana. Since we had not contacted anyone beforehand, we should not have been surprised that he was not home. So, we scouted out his apartment building and noted that it had a very nice mailroom, with a door that locked. So we camped out there overnight, and every once in a while, an irate tenant would pound on the door and demand entrance. We ignored all requests for entry, and sneaked out the next morning.
When we headed east out of Denver, we decided that we should head south and then east in to Kansas because Ken had relatives in Kansas that would be good for a meal and a place to sleep. In southeast Colorado, we were stuck for quite a while at the junction of US 385 and US 50, near
Granada.
There's not too much traffic there, so each time a car went by, we gave our most enthusiastic and inventive hitching routines. After at least two hours, a huge white car pulled up. It was a Hispanic couple, and with the beer cases stacked in the back seat and open bottles in the front, it quickly became apparent that the male driver was three sheets to the wind. As he sped east at maybe 85 mph, his wife would constantly badger him in Spanish. After quite a few miles, he slammed on the brakes and pulled to the side of the road. We were a bit relieved that they switched places, but not for long – she had been drinking as well and drove quite a bit faster – up to 100 mph as we recollect. However, she maintained control without as much weaving as her husband. But, this was not the most memorable part – after they switched places, he offered us another beer and said "You guys are the Beatles, aren't ya?" When we assured him that we were not the Beatles, he didn't buy it. He must have made his claim a half a dozen times – "I know you guys are the Beatles, aren't ya?" Young white dudes with a bit of hair and carrying a guitar – we supposed it made sense!
We're not sure how far into Kansas the couple took us, but it wasn't too long until we arrived in
Greensburg
where Ken's Grandpa Abe and Grandma Lydia Willems lived. Again, we got a nice bath, good beds, and some great meals made by Lydia, particularly the soups and pflaume mousse, German for plum mousse. One distinct memory was Lydia not saying much, but just listening and giggling as Ken, Doug and Abe talked and told stories. Lydia also had a "wandering eye" so we never knew exactly where she was looking. Probably because Abe thought we were a bit crazy, he drove us up to
Hesston
where Ken had some more relatives.
In Hesston, we stayed with Milf & Rosie Willems Roupp. We thought we were pretty clever because we showed up at the restaurant that they ran at about meal time. Well, we did get to eat at The Wagon Wheel, but when it came time to settle up the bill, they comped Ken's meal but not Doug's. Ken felt bad enough that afterwards, he paid for half of Doug's dinner. Ken also had a college "friend" in Hesston, Sue Yost, and one evening we went to the
Yost's
for dinner - shrimp.
Our last memorable ride came in Saint Louis. It was getting dark and we were on the east edge of the city. We very much wanted to make it out of the city and set up our camp in the countryside. At dusk, a single guy, about 40, picked up us up and said he was heading out east. Ken sat up front and Doug sat in the back with the suitcase and sleeping bags. However, the driver soon told us that the cops were looking for two hitchhikers and that we should spend the night at his place. Clueless, we declined and said we just wanted to get east of town. He kept repeating how the cops were looking for two hitchhikers heading east, and we kept declining his suggestion. Then, out of the blue, he reached over and reached for Ken's groin and asked him "how's your old dick?" Ken caught his hand and called him a son of a bitch, and called for him to let us out. Ken was furious and yelling, and Doug still didn't catch on to what was going on in the front seat. However, Ken yelled "Get the axe" and Doug clicked the suitcase open and got it out, and the dude stopped and let us out. He made an immediate u-turn back into town, and we walked far into a cornfield to spend the night.
We bypassed the last of Ken's relatives in Illinois and were happy to get back to our own beds and homes. However, we had no regrets, and even had a couple of bucks left over.