This is the first of the Thompson boys that I learned about -
Mychel (bio here).
Obviously, Mychel was a Pepperdine Wave [for you basketball junkies, that is coach Tom Asbury at the head of the bench]. I watched Mychel play many times, and he was almost always the smoothest player on the court. He could shoot, run and jump, and as the Pepperdine stats show in the bio, he ended up very high in many of the various offensive and defensive categories. I am a bit surprised that he has not caught on with an NBA team; however, he seems to be doing quite well in the
NBA-D league.
It was not until fairly late in his career that I learned that Mychel's dad was
Mychal Thompson,
an NBA number one draft choice. It turns out that father Mychal was invited to be the guest commentator for Pepperdine's game versus LMU. It was dubbed the
Mychal-and-Mychel Show, Live from Malibu.
So, Mychal and Mychel make for an interesting father-son due. But - many of you have likely heard about
Klay Thompson
, who along with
Steph Curry
, is one of the famed
Splash Brothers
of the 2015 NBA Champion Golden State Warriors. Brother Klay is the number 2 son.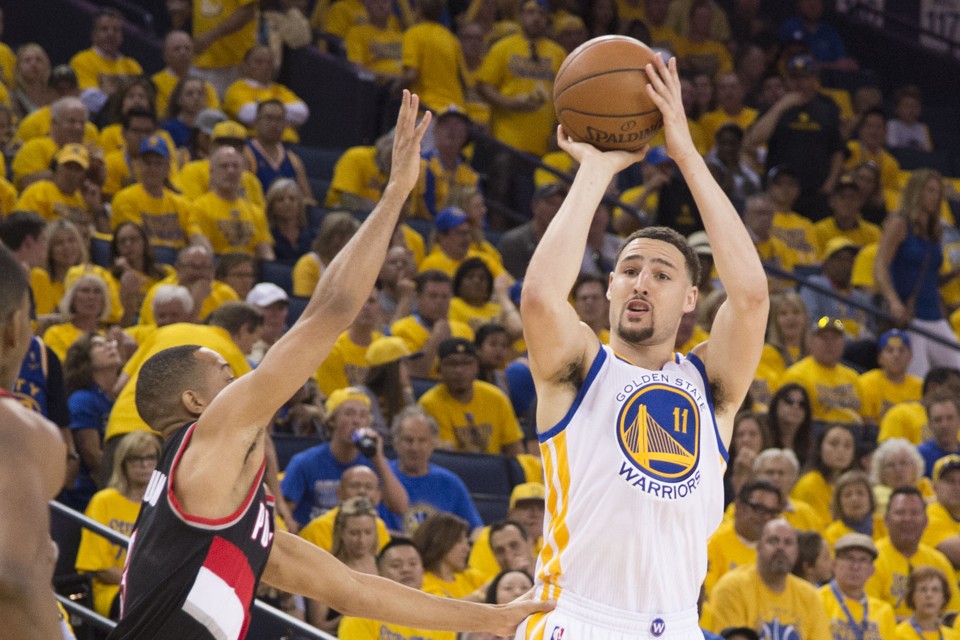 Klay Thompson
So, now we have quite the trio of a father and two sons. But it gets better! Some of you may know the name
Trayce Thompson.
He is yet another son of Mychal and volleyball playing
spouse Julie.
And Trayce is playing professional baseball with the Los Angeles Dodgers.
Trayce Thompson
Talk about good genes!!
The Thompson Clan