The
Goshen (IN) News
recently published a nice glossy magazine -
50 IN 50 - CELEBRATING 50 OUTSTANDING ATHLETES.
A panel of sports writers compiled the list of 50 of the top athletic performers of the last 50 years in
Elkhart County.
Naturally, they had a hard time deciding who was on the list and who was not, but I do not think that they had too much to discuss when it came to including my New Paris High School classmate, teammate, and long time friend,
Phil Weybright.
A Young Phil in High School Days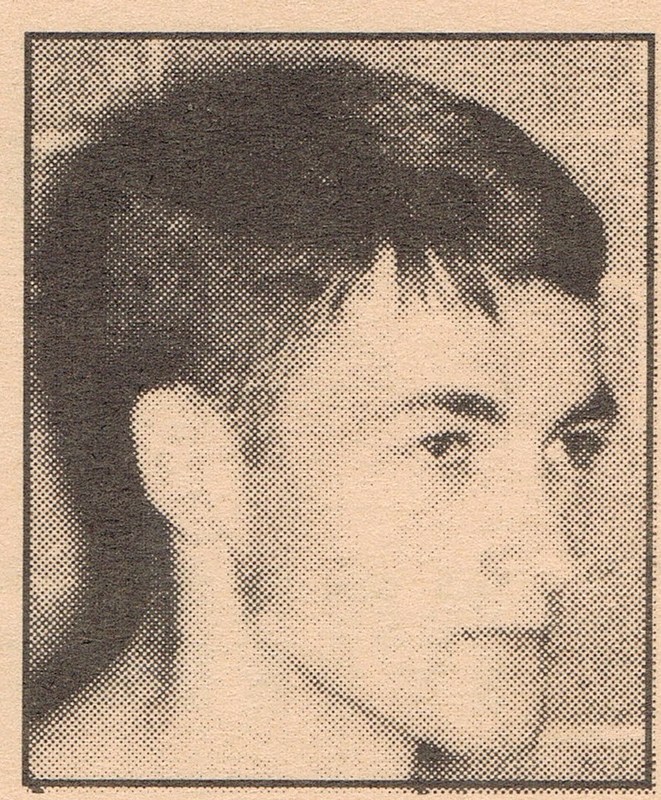 I cannot find a copy of the
50 In 50
magazine on line, so I reproduce below what panelist Stu Swartz wrote about Phil:
A basketball legend at the New Paris Cubs and Argos Dragons - Phil Weybright dedicated his coaching career to creating memorable experiences for his players.
Weybright graduated from New Paris High School in 1964 [enrollment 237] and coached basketball for 14 years at Argos [enrollment 247].
Weybright started 69 consecutive games for the New Paris Cubs and finished as the school's career scoring leader with 831 points.
The Cubs, coached by Jim Hettler, were 60-9 in those three seasons with two Elkhart County small-school tournament championships.
After graduating from Manchester College, Weybright became a teacher and coach at Argos in Marshall County.
He had a 227-94 record in 13 seasons, capped by a 132-17 mark over a six-year stretch from 1976-82.
The Dragons enjoyed a state-record 76-game regular season winning streak, won four consecutive sectional titles and capped it off with a single-class Final Four appearance in 1979.
Key Argos players that winter were Bill O'Dell, Doug Jennings, Mark Malone, Dave Calhoun, Don O'Dell, Mike Scheetz and Rich Tuttle.
The long Argos winning streak ended December 17,1981 with a loss to John Glenn High School.
Weybright told Bob Williams, author of Hoosier Hysteria, "I did not mind losing to Glenn.
Their coach, Jim Waller, is a friend of mine and showed a lot of class."
"It's hard to believe that all this could happen at such a small school.
I'll never forget that experience and I'm sure our players feel the same way."
Weybright often credited playing for Hettler at New Paris as laying the foundation for his career.
He had single-game scoring highs of 20 points as a sophomore against Wakarusa, 18 against Middlebury as a junior and 28 against Concord as a senior.
His Cubs teammates during those three seasons included Everett Maurer, Don Metzler, Chuck Stille, Rich Hoffman, Fred Schrock, Tom Hoffman, Wayne Snider, Lonnie Clem, Keith Hummel, Bob Lundy and Steve Hoffman.
Weybright is an inductee of the Elkhart County Sports Hall of Fame and the gymnasium at Argos High School is named in his honor.
Phil During His Coaching Years at Argos [back, right]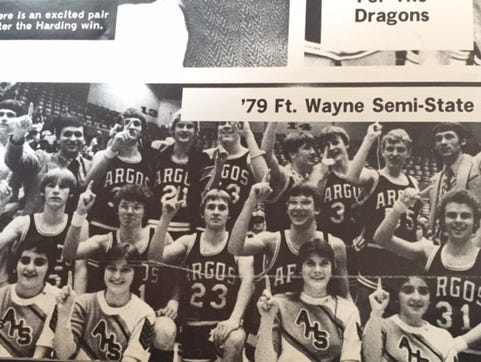 Kudos Phil!
I should add that the 50 IN 50 magazine was mailed to me by my aunt Anna Belle Emmert. My late uncle Red was a mainstay at the scorer's table at the New Paris High School basketball games. Red, Paul T, also signed many of our draft cards since he was a member of the county's draft board.