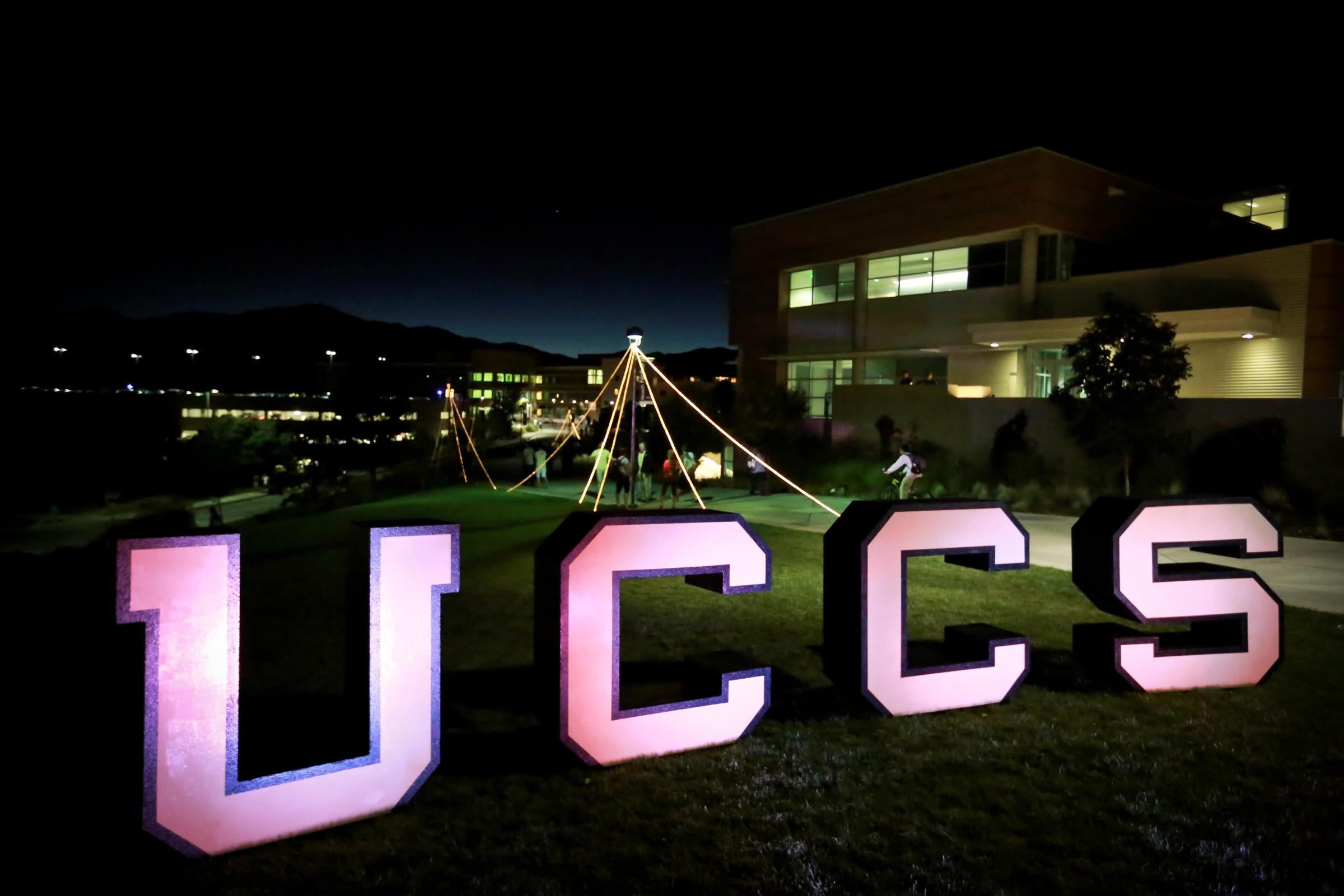 The University of Colorado at Colorado Springs,
aka UCCS, is where I spent nearly 20 years of my academic life. It was a great place to work - nice size, fine colleagues and students, beautiful location, decent facilities, and athletics that were not dominated by the Division I machine. I was there for the birth of intercollegiate basketball, and it would be an understatement to say that there were not too many victories in the early years. However, many of us supported the teams because we knew that the players were obviously students first and athletes second - truly student-athletes. As the years have gone by, the athletic program has continued to improve, both team- and facility-wise. However one thing that has never happened is for a UCCS men's basketball team to defeat Denver's Metro State Roadrunners. Going into last Friday night's game, the Mountain Lions were 0-45 against Metro. Thus - on the evening of December 12 at the
Gallogly Events Center
on the campus in Colorado Springs, history was made. UCCS 69 - Metro State 66. Another first for the evening is that I was able to watch the game on the Comcast Sport TV network. As the article below notes, things looked pretty bleak for UCCS for most of the game, but they rallied at the end to secure the victory. Kudos to the team, coaches and fans!!
From the Colorado Springs Gazette:
Fans stormed the court at Gallogly Events Center after Colorado at Colorado Springs made school history Friday, ending the men's basketball program's 26-year, 45-game streak in futility against Metro State with a 69-66 victory.


For the players, it was a night to remember. They know they can't live too much in the moment, though.
"It's huge, but we have to remind ourselves that one win doesn't make our season," Mountain Lions junior forward Alex Welsh said. "We can't get too high on this win. We have to validate it. If we go out and lose (Saturday against Regis), then it means nothing. We have a lot of team goals that we still have yet to reach."
Derrick White, last week's player of the week by the U.S. Basketball Writers Association, exploded for 23 of his 32 points in the second half, and Welsh added 12 points grabbed a key offensive rebound - one of his game-high 11 - in the game's closing seconds as No. 5 UCCS (9-0, 3-0 RMAC) at last got the best of the seventh-ranked Roadrunners (6-2, 1-1).
"They have Derrick White; it's as simple as that," Roadrunners coach Derrick Clark said. "They have a really good player over there, and that's no disrespect to their other players. That kid has gotten better every year and puts the team on his shoulders."
The Roadrunners led 41-28 with 18:07 in the game before UCCS started its comeback. White's 3-pointer gave the Mountain Lions a 51-50 lead with 7:23 left, their first lead since 7-6.
His last 3 with 1:30 to go put UCCS is front 64-63 and didn't trail again.
"They have a really good player who knows how to finish games," Clark said.