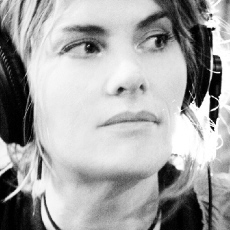 I've been meaing to write about our niece Anna for some time, but the recent release of the song and video embedded below prompted me to get busy. I
previously wrote
a bit about Anna's dad
Gary Montgomery
and his 1960's band,
The Colours,
and promise that some day I will write about Anna's mother, my sister Kay Montgomery.
You can check out information about Anna's teaching
here
, read about her award-winning CD Lyin' In the Face of Love
here
, and read more and listen on
MySpace
. But here I want to highlight Anna's musical presence in Poland!
Turn Me On,
a Wet Finger video featuring Anna's singing, now has over 2.5 million views, and the 3R video of
Black Cherry
also features Anna. The latest music video featuring Anna is the DJ Kuba & Neltan official video of the song
Take It To The Top.
Anna writes "Take It To The Top debuted on
EKSA Radio
at #1. We now hope that it will get into the top 20 chart of overall plays. It is being pitched to be the theme song for the EuroCup 2012 that is being held in Poland/Ukraine this coming year."
We wish Anna the best in the wacky world of pop music!!